Tokens
Tokens are how you pass data into your page. We'll explain the variety of ways you can use them.
Token data-type and rendering
Tokens are strings. There are no strong-typing of tokens, meaning things like date formats, or number formats coming from a token need to be passed through as the final string you would like to display.
Good
Bad
Available Token placements
Tokens can be placed in:
Text areas within the Text block

Including within table cells

Including within a 2 column layout

Text area within the Splash Block, Video Block, Embed Block, Quote Block, and Accept block
Tokens cannot be placed in:
Any configuration areas for blocks, for example

Foldable block button text (default text is "show/hide")

Custom Accept text for the Accept block

Custom forms for the Accept block

Within the Quote line-items of a Quote

The Accept button itself
All Tokens are optional, and null values are inserted as empty strings. This means that if, for example, a bullet point has only a token placeholder, the bullet point will always be there.
Custom Tokens
With the Qwilr API, you're able to specify and deliver any token name you like. These are "Custom Tokens." You can manage which custom tokens you're using with our GUI.
Tokens for buttons
Tokens can be used to specify the destination URL for a button link in a page create request. We do not currently support custom tokens in the button text.
Your responsibilities:
The supplied token value is a valid URL
Tokens for images
Tokens can be used for placing media within text areas. The inline image widget expects a string for the path of the image or video, either owned by you, or uploaded to our image library.
Your responsibilities:
It's up to you to ensure the accuracy of the image path.

It's up to you to ensure the image is publicly available to the internet, so that people viewing your page can see the image.
Tokens for videos
Tokens can be used to determine which video is loaded into a video embed.
Your responsibilities:
It's up to you to ensure your video is on a supported video service - YouTube, Brightcove, or Loom - and that this video is publicly available to the internet, so that people viewing your page can see the video.

For Youtube, Brightcove, Wistia, and Brightcove, the video token expects the URL seen in the embed code provided by the platform, not the entire blob of embed HTML.

Vimeo not supported: Vimeo do not provide embed code that includes a usable URL, so it's not currently possible to use Vimeo videos with custom tokens.
Tokens for maps
Tokens can be used to control the focus of the map widget. Using "Share" and Embed option in Google Maps, copy the URL from within the embed HTML. This URL will be what the map widget expects to receive.
Repeating Tokens
Repeating Tokens can be used in conjunction with the repeating content widget. They allow for the rendering of an array of objects with string properties. This results in templated set of content to repeat within a block.
In this example we are rendering a Repeating Token for contact within a text block. Based on the item properties of the Repeating Token we are able to allow a variable number of repeats depending on the substitutions section of the API request.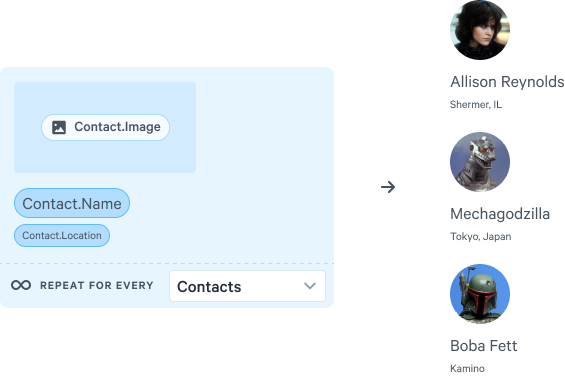 Repeating tokens are the parent token. Within a repeating section of content, you can reference one Repeating Token, and any non-repeating tokens.
The API request for the above would contain a substitutions section similar to:
        

"name"

:

 

"Allison Reynolds"

,

        

"location"

:

 

"Shermet, IL"

,

        

"location"

:

 

"Tokyo, Japan"

,
---
Note on CRM Tokens
CRM tokens automatically map existing data in a CRM to tokens in Qwilr. They're intended to be used when creating a page from within a CRM like SalesForce. CRM tokens are created at the time of connecting a CRM integration to Qwilr. These tokens are generated based on the standard schemas of data held in the CRM you've connected to - Salesforce or HubSpot. These are not used with the Qwilr API, since the integrations themselves power the page creation from within each CRM platforms.